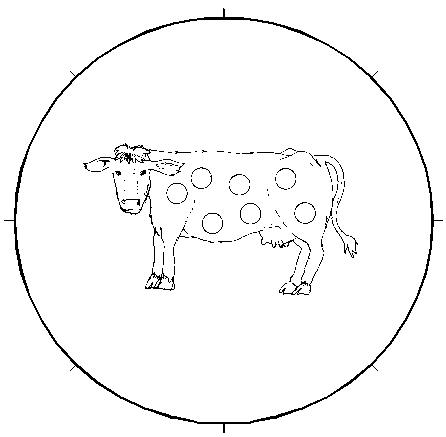 Vert, a cow statant guardant argent spotted of the field.

Acke is found in Reaney, P.H. & R.M. Wilson, A Dictionary of English Surnames, as a header spelling. Bernard filiua Acke 1212.
Holycow is a constructed byname. Eilert Ekwall, The Oxford Dictionary of English Place-names shows several names with the protheme Holy: Holybourne dating from 1167 'Holy stream', Holy Oakes showing Halyok 1396 'Holy oak', Holystone dating from 1242 'Holy stone', and Holywell dating from the early 13th century 'Holy well'. Additionally Reaney, P.H. & R.M. Wilson, A Dictionary of English Surnames, glosses Holyoak as "...from residence near a holy-oak or gospel-oak, an oak marking a parish boundary..." Under Halifield the origin is speculated as, "...perhaps land belonging to the church."
Ekwall shows many placenames using cow as an element. Cowbridge, Cowarne 'cow-house', Cowdale, Cowden 'pasture for cows', Cowfold, Cowhill, Cowley 'cows' pasture'. These placenames date back to the Domesday Boke.
Therefore, we assert that Holycow is plausible as an English byname as either the keeper of the church's cow, or a dweller by/near/with the church's cow.
We realize that the SCA does not use of the field as a term of blazon, but honestly, it's just appropriate here.