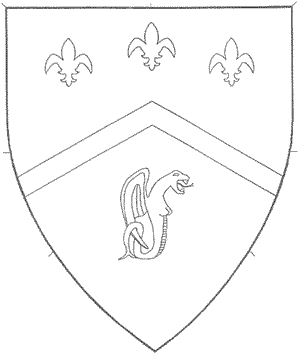 Sable, a sea python erect, breasted of a woman, winged, sinister Or, a chevron Or between three fleur-de-leis Or
The submitter will accept any changes to his name, and wants a male name. If changes are required, he cares most about the meaning, which he gives as "composed to mean by the weir". He is interested in a name authentic for "13 th c. Welsh" He will allow a holding name.
Gareth comes from Withycombe, Oxford Dictionary of English Christian Names, 3rd, (s.n. Gareth), where the author indicates a child of this name was baptised in 1593 in Wigan.
He cites Reaney, Dictionary of British Surnames, 2nd, (sub Wear), where the author lists Peter de la Were in 1242, and John atte Wer in 1332, where weir is a dam or fish trap. He asserts the surname is constructed in the style of an English locative name "by the weir" following the pattern of Bitheway, Bethewy, Bithewuther, and Bithe welle, and that "bydaweyr – welsh deviation."